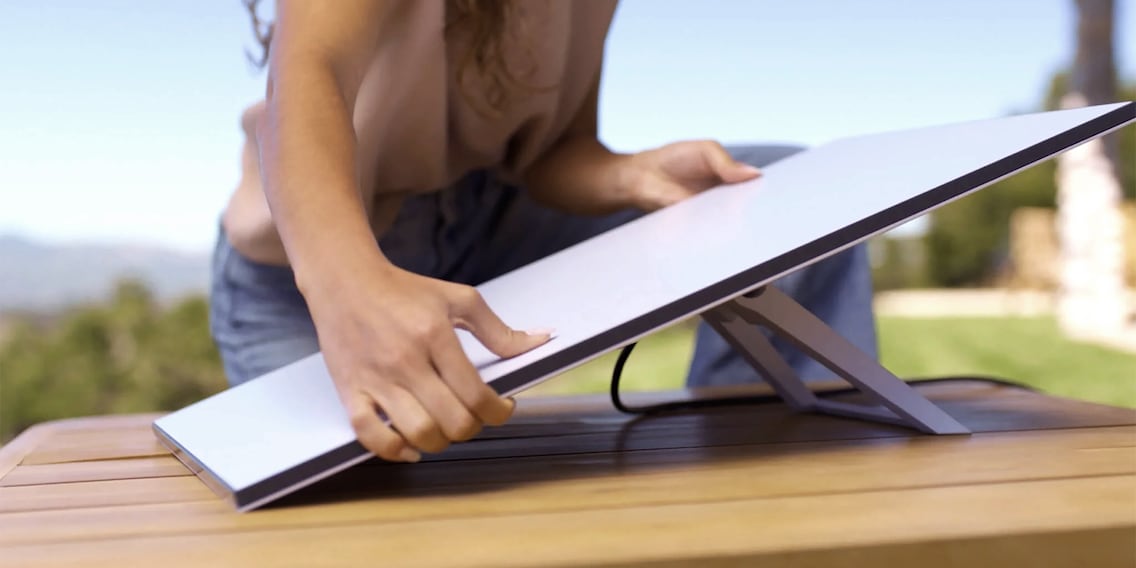 New Starlink "satellite dish" is flat and is aligned manually

Translation:
machine translated
SpaceX has a new standard kit with a better router and satellite board. In contrast to the kit sold in Europe, the "dish" is aligned manually.
SpaceX has launched a new Starlink Standard Kit in the USA. In addition to a satellite dish that looks like a board and, unlike the one sold on the European market, does not automatically align itself with a motor, a better router with Wi-Fi 6 is also of particular interest.
Automatic dish becomes manual board
The previous standard kit is now called "Standard with motor" - the new one just "Standard". The slightly larger antenna surface area of 59 x 30 centimetres (compared to 50 x 30) enables a 10 degree higher field of view of 110 degrees. Thanks to the shape, a kickstand and a weight of just 3.2 kilograms (instead of over 6 kg), the antenna is easier to install. Nevertheless, it is designed for stationary operation. It is aligned manually as instructed by the app.
If you want to see how to install the new kit, take a look at this Quick Start Guide on X (formerly Twitter).
What the new router does better
Starlink previously relied on dual-band Wi-Fi 5 with 3 x 3 MIMO for its Wi-Fi router. Now there is tri-band Wi-Fi 6 and 4 x 4 MU-MIMO. This makes it easier to expand the Wi-Fi with mesh nodes. This should increase the basic range by around a third. Furthermore, the router in the "Standard with Motor" kit does not have a LAN connection. If you want one, you no longer have to buy one with the new "Standard". The new router has two RJ45 ports. Still not many, but still a big plus point. It is also good that it is more weatherproof with IP67 instead of IP54. This means you can even operate it one metre under water for up to 30 minutes (fresh water, preferably distilled).
If you prefer to mount the new kit with a bracket, you can buy one from SpaceX. The stand is only designed for wind speeds of up to 60 miles per hour (approx. 97 km/h). It is currently not known when the new kit will be sold worldwide. It also remains to be seen when the new router will become standard. It is a bit of a shame that SpaceX is not opting for Wi-Fi 6E or Wi-Fi 7 straight away.
---



I find my muse in everything. When I don't, I draw inspiration from daydreaming. After all, if you dream, you don't sleep through life.
---